Kansas Waterfowl Hunts | Guided Waterfowl Hunts
When duck hunting with NCK Outfitters we strive to ensure our hunters receive the best duck hunting experience that North Central Guide Service has to offer. NCK Outfitters are where the ducks are! We offer top-notch lodging, accommodations, guides, and locations. Kansas has quickly become a mecca for some of the best duck hunting in the country! If you are duck hunting Kansas and looking for the best place to book your guided hunt, you have found the right place. We do not overbook and do not overhunt any of our areas.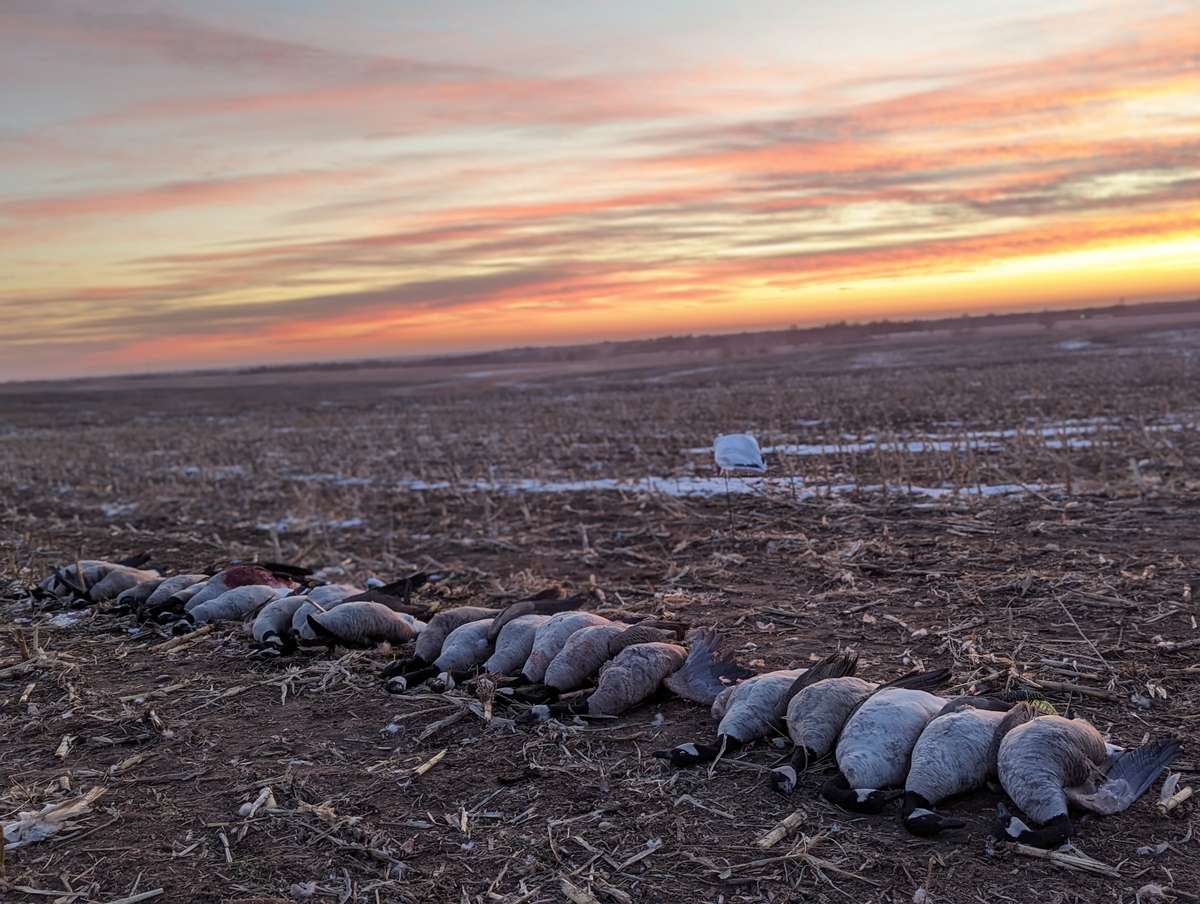 Late Season Duck Hunts Kansas
As duck hunting in northern states begins to wind down, Kansas duck waterfowl hunting is just getting started! Kansas duck hunting gets serious in late November and winds down in early January. Gone are the warm days and crowds of fair-weather hunters. Thousands have traded wetland camo for blaze orange pheasant vests. Many others have chosen tree stands over duck blinds. Now, all this wonderful waterfowling state has to offer is left for those of us willing to earn the best duck and goose hunting of the season. The possibilities seem almost as endless as the vast flocks of ducks and geese that fill our skies. As the cold comes from the Arctic there will be days when most of those waters are ice, and serious waterfowl hunters ecstatic. It's a time of hearing the roar of hundreds of mallards flushing from the open water of a few riffles on an otherwise ice-covered stream. They'll return from feeding, anywhere from singles to flocks of 50 or more.
What about a Goose Hunt?
Experience the best Canada Geese, Specks, and Snow Geese hunting in Kansas! We would like to invite you or your group to come join us in Kansas on a goose hunting adventure like no other! Our goal is to work hard for our hunting parties and to provide a quality hunt that will keep our customers coming back. We have access to thousands of acres in this area, and our private lands which are scouted daily in order to maximize your hunting experience! We have put a lot into perfecting what we do as an outfitter service specializing in waterfowl hunting.
Late Season Goose Hunts Kansas
While duck seasons will close and re-open, Canada and snow goose seasons will remain open for the next quarter of a year. Much of that time white fronts, with their laughter-like calls, are in season, too. Word is getting out that Kansas in winter has few rivals for high-quality goose hunts. More and more outfitters are spreading hundreds of decoys in well-scouted feed fields. Hidden in low lay-out blinds, their clients daily experience what it's like to be at the center of a descending cyclone of squealing and honking geese. With today's liberal limits, and the ability to easily hide 8-15 hunters, harvests on such hunts can top 50+ birds some days.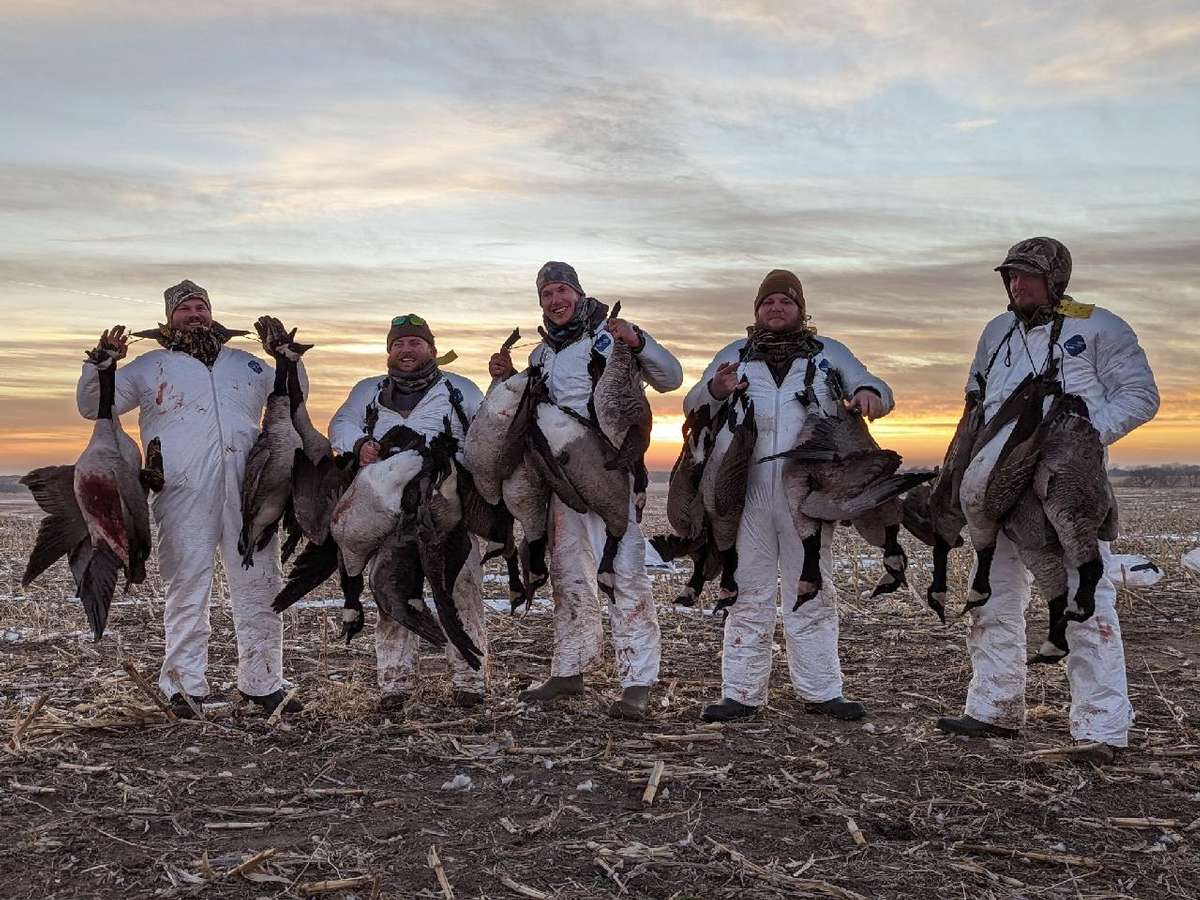 Waterfowl Hunting Rates
Accommodations for 1 to 15 Hunters per day
50% deposit required to book dates
Deposits are non-refundable
Lodging guide dogs meals included
Check-in time 5pm
Check out time 8am
One night lodging and 3 meals at no charge with each hunt
Extra nights and extra meals are an extra expense
Clients are responsible for their own Kansas Hunting License and duck stamp
No refunds if there are no ducks on the date that you have booked. We can not control the weather in the northern states, unfortunately. However, we can hunt Pheasant all day with one-day advanced notice at no additional cost.
$495.00 per day
Commission paid on referrals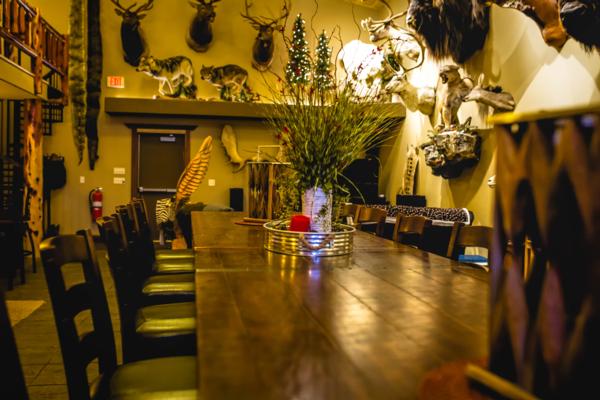 Waterfowl Lodge Kansas
Lodging with Your Waterfowl Hunt
Check-in 5:00 PM
Check-out 8:00 AM
One night lodging and 3 meals included with each hunting day.
Extra nights and extra meals are at an extra expense.
There are No Dogs allowed in the lodge. We have a heated shop that you can put your dog in. There is also a hotel nearby if you would like to sleep with your dog.
NCK Outfitters meets all your seasonal hunting needs. We hunt Pheasant, Deer, Turkey, Duck, and Geese. Get your camouflage and safety orange on and head over to Clay Center, KS. Our knowledgeable guides will make sure that your experience is of the highest quality and is safe for hunters. We take pride in being one of the best guided hunting tours in the area and we take our safety measures very seriously. You are sure to be in good hands with the folks at NCK Outfitters.