North Central Kansas Outfitters - Testimonials
Here's what a few of our customers have had to say about us.
Have a testimonial of your own to share?
Send a Testimonial
Hunter
Brian: "I would appreciate it if you would refer some hunters to my lodge this season. I have a couple of cancellations and dates that I could fill. The pheasant and duck hunting will et a lot better as soon as it gets cold."
Hunter: "I will and hopefully I could come back. This was a dream hunt!!! I cannot imagine a better result on a two day hunt! I really appreciate your hospitality and Chase's passion for bird hunting and people is indescribable. He will be a famous hunter someday. He really cares about you and your business and that is what impresses me most. Thank you from the bottom of my heart. These pictures will be shown at my funeral someday!"
B Hodges
Fall 2018 - Salina kansas
Great hunt. Guide was great and accommodations were great. They really work hard to get you shots at waterfowl. Will Hunt with them again.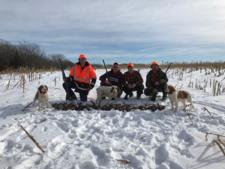 Eric Engel
Januar/2018 - Clay Center
This is my second time out to NCK. First time was 2 years ago for my son's 16th birthday. We had a group of 7 that had a great time. Just got bask last weekend for my second time out and the 4 of us this time had just as good a time as the first. Coming out from NY, Brian makes it easy. Food is good, lodge is great and we limited out on birds both days. Thanks for a great time. see you again in a few years.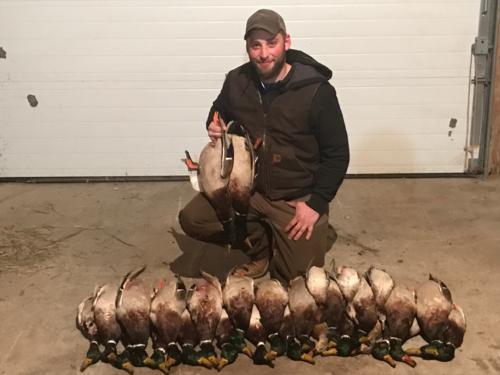 Collin Rogers
I've got to brag on your guides. They tried their hardest to put us on ducks. We all had a great time. Tyler, Blake, and Cody did a great job, we had a great time on every hunt. The cook was great! And also your lodge is very nice and clean! We were very pleased with our hunt/stay. I would definitely hunt with you guys again!
Send us a Testimonial
To our past clients: We appreciate your comments and if you would, fill out the form with comments and a photo about your experience at NCK Outfitters. Fields marked with * are required. Please enter the Name field how you want your name to read on our website (Examples: John Doe, J. Doe, John D., John Doe Corporation).